19444-3 -- Supa Dupa Babee Adventureland Game ( $16.95 )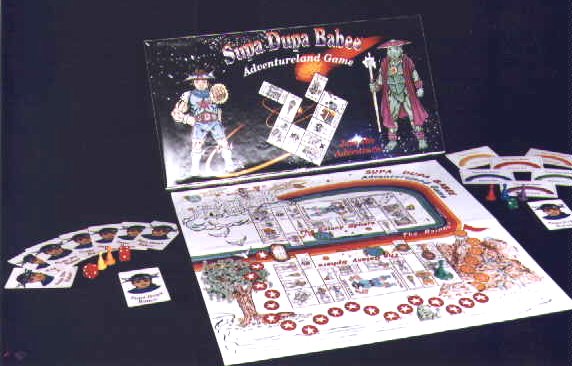 If you can avoid three monster jails, red alert danger, and get to the Castleberry Corner Safety Zone you're half way there. Crossing the Galaxy Sphere, traversing Rockin' Rock Mountain and beating your opponent to the Rainbow Zone will bring you closer to winning. But, you have to be the first player to cross the Rainbow Zone to be the lucky Supa Dupa Babee Adventureland Game Winner. Game rules are easy, and landing on Supa Dupa Babee 'safe' squares is a strong reminder to kids that they must always strive to 'power up' and be safe and strong like Supa Dupa Babee. For instructors and educators, the Supa Dupa Babee Adventureland Game is a welcome assist for 'hands on' drug prevention learning and loads of fun for everyone. Two to six players, ages seven to adult, can join the adventure.
To order call Business: (706)453-4355.
---
Back to catalog
All images, content, and characters on this website are Copyright (C) 2002-2018 by Castleberry Toys, Inc. All rights reserved.
Character names and images are trademarked, 2002 by Castleberry Toys, Inc. Copyright/Trademark info