1130-3 -- Educational Music Video ( $15.95 )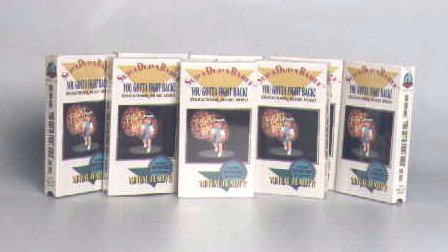 Children delight in the fascination of seeing Supa Dupa Babee fly in from Castleberry Heaven to rescue Earthland Children from the lurking Crackin' Cocaine monster. This high energy, contemporary, music video showcases children from diverse ethnic backgrounds and age levels. Through song, dance and acrobatics, Supa Dupa Babee warns his charges to be on guard against the drug monster man. Learning reinforcement from the constant "you gotta fight back," chant empowers students to say no to drugs and crack as it subtly builds character and self esteem. Supa Dupa Babee is the U.S.A.'s tiniest multicultural hero to be featured in animated virtual reality.
To order call Business: (706)453-4355.
---
Back to catalog
All images, content, and characters on this website are Copyright (C) 2002-2018 by Castleberry Toys, Inc. All rights reserved.
Character names and images are trademarked, 2002 by Castleberry Toys, Inc. Copyright/Trademark info