978-0-9706907-1-5 -- Supa Dupa Babee & Friends "Got LUV 4 U" Color Storybook ( $4.50 )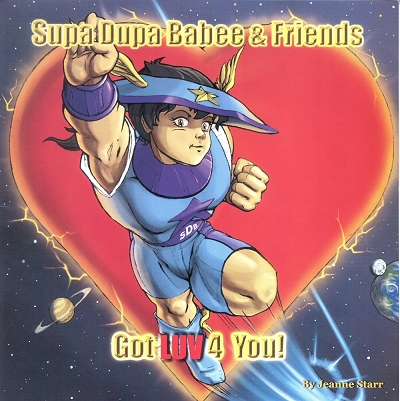 And so it begins...A Fairy Tale of Truth as Supa Dupa Babee and Friends embrace the hearts and minds of children ages two through ten; offering them safe havens and realistic adventurous romps where they can dare to dream about friendship, hope, peaceful surroundings, and love. As the pages turn, young readers become self absorbed as they visit Honey Bear Land with Baetsey Bear, skate through Rockin' Rock Mountain with Giffy Giraffe, and swim and dream down at Healing Stream Station with Fawnee. The strength and protection of Supa Dupa Babee and the Galaxy Star Glider Ride with Tippi Turtle, the "Wiser One" excites the imagination and subliminally encourages children to emulate the caring, friendly attitude of all of their new found friends. This brilliantly illustrated storybook becomes a real treasure as kids want to see, read, and hear about Supa Dupa Babee & Friends Got LUV 4 U over and over again.
To order call Business: (706)453-4355.
---
Back to catalog
All images, content, and characters on this website are Copyright (C) 2002-2018 by Castleberry Toys, Inc. All rights reserved.
Character names and images are trademarked, 2002 by Castleberry Toys, Inc. Copyright/Trademark info