SDB1100 -- Supa Dupa Babee T-Shirts ( $8.95 )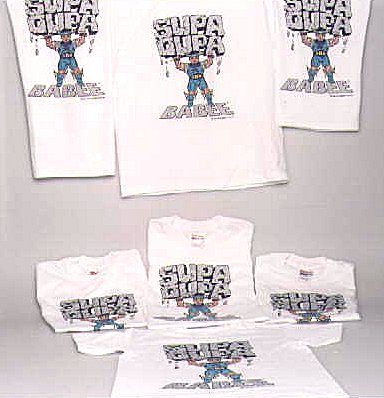 Who needs a Supa Dupa Babee T-Shirt? Just kids, and adults, who are crazy about seeing the strength of Supa Dupa Babee as he flexes those huge muscles and holds up his name boldly chisled in concrete. The innocence and sheer strength of character conveyed in the shirt is truly eye catching for tots, teens, and preteens who want to be strong and sharp just like their hero you see -- Supa Dupa Babee! Children's sizes small, medium, and large.. Adult Sizes: Large and extra large. For a small fee, personalized school or organization logos can be imprinted on the back of shirts with a minimum order of 50 t-shirts.
To order call Business: (706)453-4355.
---
Back to catalog
All images, content, and characters on this website are Copyright (C) 2002-2018 by Castleberry Toys, Inc. All rights reserved.
Character names and images are trademarked, 2002 by Castleberry Toys, Inc. Copyright/Trademark info