19459 -- Supa Dupa Babee Talking Action Figure ( $5.98 )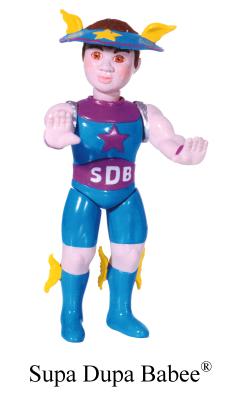 Supa Dupa Babee is the mighty, muscular, "Hero of the Universe", who travels on his Jet Star Swoosh to save the Earthland Children all over the world from drugs and violence! Hear three custom sounds with the voice of Supa Dupa Babee. "No batteries needed!"
To order call Business: (706)453-4355.
---
Back to catalog
All images, content, and characters on this website are Copyright (C) 2002-2018 by Castleberry Toys, Inc. All rights reserved.
Character names and images are trademarked, 2002 by Castleberry Toys, Inc. Copyright/Trademark info